Plagiarism Policy
By submitting articles to Current World Environment the author attest the following:
None of the part of manuscript is plagiarized from other sources
Proper reference is provided for all contents extracted from other sources
Strong action will be taken against cases of plagiarism
---
All the papers submitted have to pass through an initial screening and will be checked through the Advanced Plagiarism Detection Software (CrossCheck by iThenticate)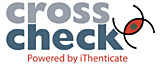 ---
Know more about plagiarism
How is plagiarism defined in research? This interactive report displays 10 of the most common and most serious types of plagiarism and attribution issues in research.
As cases of plagiarism in academia and at scholarly journals rise, much discussion has centered on methods of preventing and detecting plagiarism and applying appropriate consequences. Amid the publicity surrounding the National Science Foundation's discovery of plagiarism in some grant proposals as well as data from Nature citing major spikes in retractions over the past ten years, it has become clear that understanding and addressing plagiarism is more complex than a simple assessment of originality. For universities, research organizations and scholarly publishers to formulate a truly comprehensive strategy for addressing and preventing plagiarism, a thorough understanding of the many shades of duplication is critical.  Read more…..
Self-plagiarism is an area of increasing importance within scholarly research. Self-plagiarism may be one of the most dangerous forms of misconduct due to the lack of understanding of the ethics involved. The pressure to publish, combined with an ever-growing body of scholarly research, makes it difficult for publishers and institutions to investigate and prevent cases of such duplication.
iThenticate's paper, The Ethics of Self-Plagiarism, offers a clear definition of self-plagiarism and how authors and publishers can avoid this issue and the costly retractions associated it. Read more….